WK-compact PT H
plug-in energy-efficient ventilation unit for indoor and outdoor installation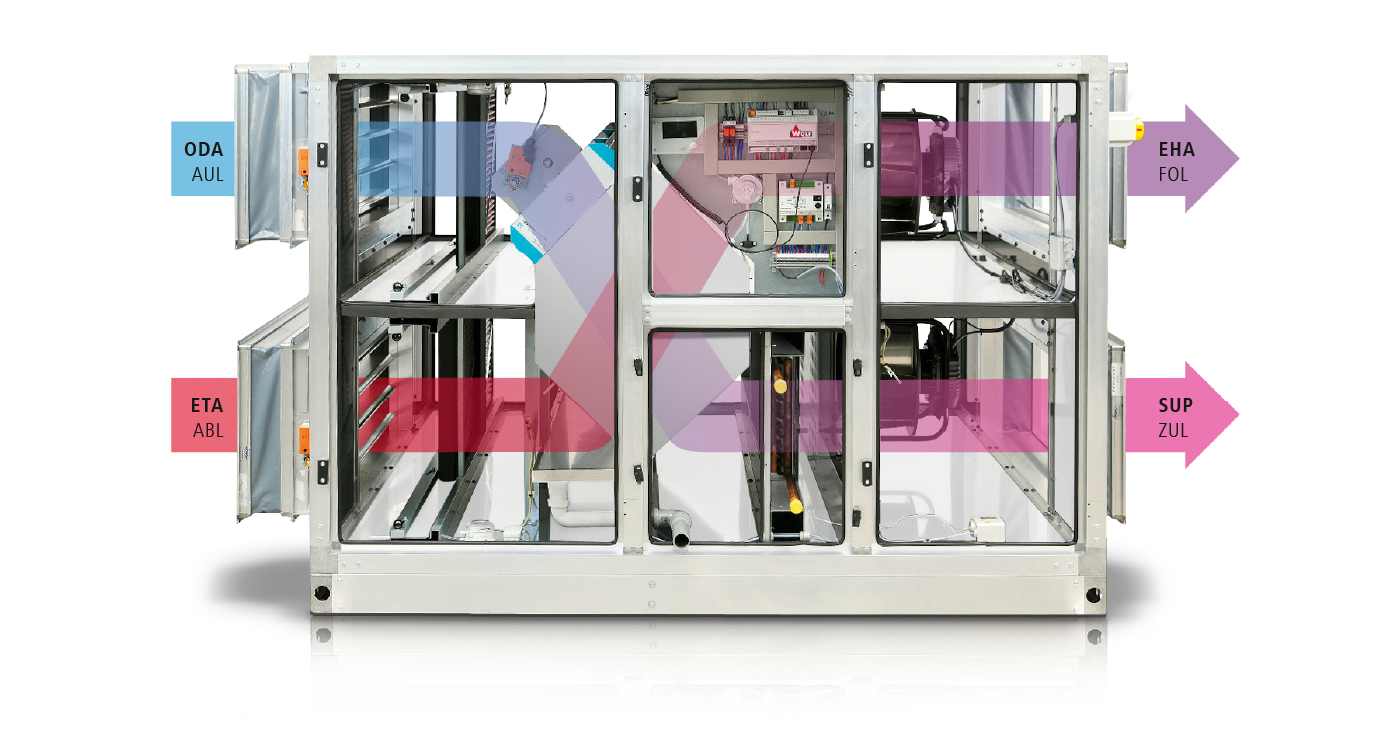 Heat recovery

Designed as a counterflow plate heat exchanger for utilising the sensitive and latent heat energy contained in the air streams. Exhaust and outdoor air flow are completely separated from each other.
They pass along each other by thin aluminum panels arranged in parallel by countercurrent.

EC technology

EC motors have a significantly lower power consumption than conventional three-phase AC motors. With the EC motor technology, efficiencies of approximately 96% can be achieved over a very wide revolution speed range.
The continuous controllability guarantees optimal adjustment of the system efficiency, which is very easy with a 0-10 V signal.
The EC ventilator motor is not only very effective, but also long-lasting, maintenance-free and quiet.

Z-line filter / pocket filter

In addition to high strength and stability under heavy load, the air filter is characterised by one thing in particular:
Its low energy consumption, for an environmental consciousness that pays off.By default, with Z-line filter, available with optional pocket filters.

Housing

Housing consisting of 42 mm thick double-walled panels with very good sound insulation.
The inner and outer shell is made from 1.0 mm galvanised sheet steel coated in RAL 7016 / anthracite grey. Alternatively, the panels can also be made of aluminum or stainless steel.
Profile frame made from aluminum, optional stainless steel.
Design and construction according to DIN EN 1886 and based on VDI 6022.
Also available in weatherproof design, i.e. with roof and suction hood (ODA/AUL).

Recirculating air flap

Optional: The recirculating air flap can be opened for fast and energy-efficient heating of a room. The counterflow plate heat exchanger and the bypass are closed simultaneously and automatically via servomotors and flaps, so that the heating can be performed with 100% of the circulating air.

Bypass

In order to avoid unnecessary heating of the outdoor air in the summer, the bypass flap can be opened and the flap on the countercurrent plate heat exchanger can be closed.
With this flap setting a night cooling can be performed using the control system. The cool outdoor air is thus blown directly into the room past the plate heat exchanger at night.

Control

Optionally, the WK-compact PT H also can also be equipped with a factory-integrated control.

PWW heating register

Multi-leaf dampers

Condensate tub

Base frame

with opening for transport bar

Outdoor installation

with suction hood (ODA/AUL) and overhanging roof
continuous performance and highly effective heat recovery...
Competence
Plug-in ventilation units in compact design for needs-based ventilation with maximum energy efficiency.
Usage examples
Housing complexes, hotels, schools, restaurants, preschools, sports facilities, conference rooms, showrooms, factories, hardware stores or industrial buildings
Advantages
Highly energy-efficient heat recovery with counterflow heat exchanger for heat recovery coefficients up to 93.5%
Energy-saving EC motor technology
Software-based control concept
Compact design with high-quality workmanship
Optionally equipped with Z-line filter or pocket filter
Plug & play technology
100% summer bypass
100% recirculating air operation for bypassing the heat exchanger
Sophisticated accessories
Reliable customer service
Also available in weatherproof design
Booster circuit for fastest air improvement
Optional pump warm water (PWW) or electric register
Optional cooling register or direct evaporator
optionally ready-to-plug-in with control system
WOLFtronic© ensures simple and convenient operation
By means of this regulation and control system specially developed for the WK-compact device, all important settings can be made conveniently. Select the operating mode, temperatureor desired operating time.


System-specific ex works
For a customer-friendly initial operation, the WOLFtronic© system is already configured for any specific customer installation ex works. For the initial operation of the heat recovery unit, only the target values, revolution speeds and circuit times must be adjusted individually by the customer.


At a glance
Room unit for on-site operation
Control panel (HMI) for initial operation and adding functions
Ex works pre-programmed and configured control system
User-friendly menu
BAC-NET interface expansion modules (pre-programmed)*
Remote service via TCP/IP*
CO2 pressure, constant volume flow control or humidity control possible
Software updates via SD card
* optional
Continuous 0-100 % via
3-step automatic transmission
Constant volume flow*
Constant pressure*
CO2 control*
Humidity control*
Shutdown fire alarm control panel
Anti-freezing of the heat recovery unit
Configurator
Quickly configure and receive a quote