TAIFUNO large spray booth
for commercial vehicles, special parts, construction machines and engine building
Highest level in equipment & quality
Excellent surface quality, perfect protection against corrosion and outstanding optics are marking first-class products not only for spraying passenger cars, but also for commercial vehicles and in engine building.
Benefits
Competence in planning and construction
Renowned manufacturer of air-conditioning and ventilation plants
High production depth on maximal quality level
Own control system construction
Strong and reliable service
Best references in automotive and paint industry, institutes and training sector
Representations in 14 countries
Export to over 40 countries
The highest level of energy efficiency
As a manufacturer of ventilation and air-conditioning plants, WOLF is able to conceive even booths with complex airflow requirements, so that your spray booth is completely "one-stop" and 100 percent optimized – also regarding energy consumption.
Air Technology and Heat Recovery
One of the great advantages of WOLF is the wide ventilation and air-conditioning program by own production, providing the optimal conception for nearly any requirements.
Essential is, for example, the right selection and dimensioning of heat recovery systems. In most cases, the approved plate exchanger modules are used. If also humidity is to be transferred, highly efficient rotary heat exchangers are used.
However, energiy efficiency means far more than using heat recovery systems. Also control engineering plays a decisive part.
Control System and Regulation
Modern mode programs are controlling the optimal energy application for each kind of operation such as preparing, spraying, evaporating and drying. Single booth sections in large booths can be switched, so that only the respective zone where paintwork is done is run with full air capacity.
Spray Booth Commercial Vehicles
wolf_lackieranlagen_industrie_brandl-1.jpg
wolf_lackieranlagen_industrie_brandl-2.jpg
wolf_lackieranlagen_industrie_brandl-3.jpg
wolf_lackieranlagen_industrie_brandl-3.jpg - copy
state of the art spraying hall for commercial vehicles
WOLF Reference
A large spray booth with a length of 21,5 m as well as two preparation bays with a length of 17 m, each, provide not only the requirements for large-scale paintwork, but also the basics for optimal working processes.
If trucks, buses or industrial machines – nearly any size can be painted in the new paint shop in an adjusted area with efficient energy use. The spray booth can be divided into a 14,5 m and a 7 m section. In the large section, buses or commercial vehicles are painted, while the last third is separated.
The smaller booth section is mostly used for painting the numerous single parts of commercial vehicles.
On the elaborate preparation bays, also big vehicles can be treated completely and without manoeuvring. Each preparation bay has got a 2-zone-switching with vertical air guidance, so that as required only one zone or both of them can be ventilated. A further advantage is the heating as well as ventilation and de-aeration of the hall by the machinery of the preparation bays.
Spray Booth Special Parts
wolf_lackieranlagen_industrie_brandl-1.jpg
wolf_lackieranlagen_industrie_brandl-2.jpg
wolf_lackieranlagen_industrie_brandl-3.jpg
open-space spray booth 
for big steel constructions
WOLF Reference
The spraying zone is 24 m long and wide, subdivided into 8 working bays with 10 x 5 m, each. Each of them can separately be ventilated on site. The whole spraying zone is covered by filter ceilings.
The paint mist is extracted by paint mist separation mats, arranged below the gratings of the working bays.

The booth is rated so that paintwork can be done on two working fields at the same time. Inlet air flows into the filter ceiling over the selected zone, outlet air is extracted into the floor ducts of the zone. The booth is ventilated by two powerful combined air inlet / outlet machineries with a total air capacity of 66.000 m³/h. The booths are equipped with a heat recovery system.
Spray Booth Construction Machines
wolf_lackieranlagen_industrie_brandl-1.jpg
wolf_lackieranlagen_industrie_brandl-2.jpg
wolf_lackieranlagen_industrie_brandl-3.jpg
spray booth for excavators
WOLF Reference
On the Russian production site of this well-known excavator manufacturer, WOLF has planned and realized together with their local partner a large spray booth for completely assembled crawler excavators. The booth consists of a total of 4 large-space booths of 18 x 8 x 8 m, each.
The excavators are passing all booths. The plant consists of:
Washing booth → Adhesive water drier → Spray booth → Oven
The booths are equipped with powerful machineries with heat recovery systems.
Spray Booth Mechanical Engineering
wolf_lackieranlagen_industrie_brandl-1.jpg
wolf_lackieranlagen_industrie_brandl-2.jpg
wolf_lackieranlagen_industrie_brandl-3.jpg
special coating for offshore wind turbines
WOLF Reference
Especially the heavy turbine gear models for offshore use are produced by this North German machine construction company. The gear housings are painted in two parallel spraying lines with zone switching (four spraying zones) in a separate hall section.
Since the wind turbines are exposed to extreme weather conditions, a very high-grade protective layer is applied.
Spray Booth Boat Building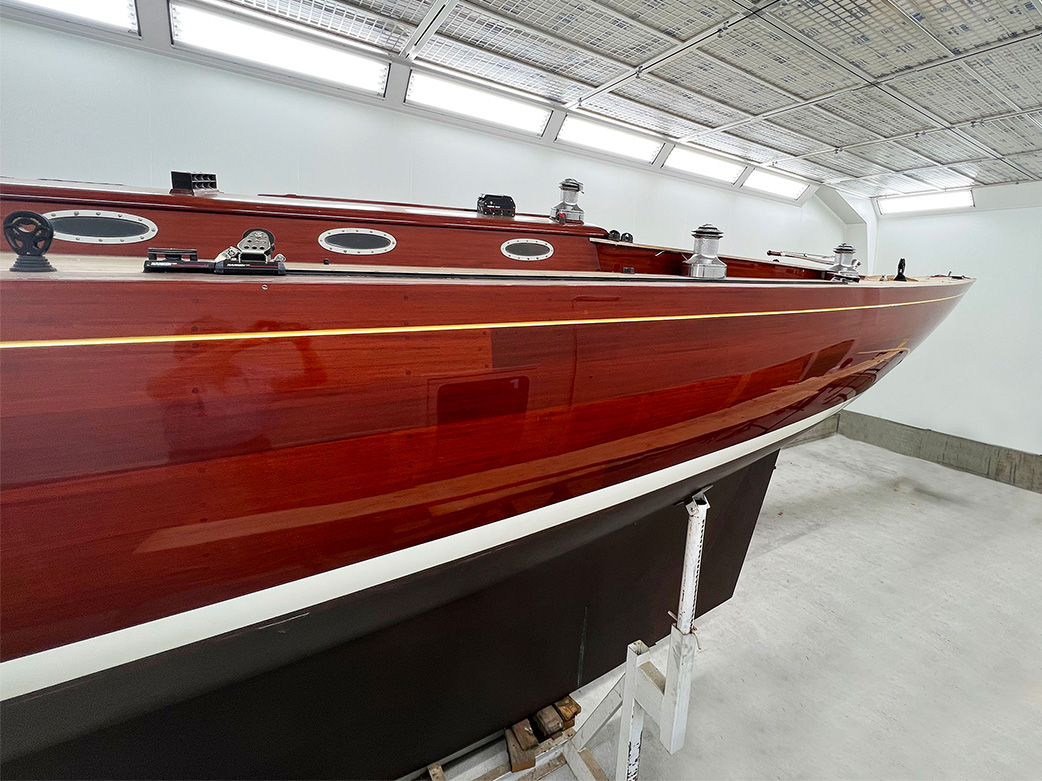 Martin Yacht
WOLF Reference
In a shipyard on the shores of Lake Constance, elegant wooden sailing boats are painted high-gloss in a WOLF large-space paint shop. The inside dimensions of the booth are 18,0 x 6,0 x 5,0 m (l x w x h). In order to consume as little energy as possible, the booth has got a sectional ventilation with four extraction zones, requiring a significantly lower air capacity than conventional spray booths. In the event of flooding, the level of Lake Constance can rise to the spray booth site. Therefore, it is standing on a concrete base, and paint mist extraction takes place by lateral suction walls above the base. Since painting with a spray gun is being done only above the waterline, there are no disadvantages due to sidewall extraction. A particular challenge was the exact fitting of the booth into the roof structure of the building to be able to make full use of the hall height.