WK-com F air handling units with flat construction
High performance, compact design
Always the right decision!
WOLF-Kompakt-Flachbaugeräte WK-com F sind für die komfortable und effiziente Be- und Entlüftung anspruchsvoller Aufgabenstellungen bestens geeignet. Die kompakten Ausführungen der energetisch optimierten Module sind vielseitig einsetzbar und verfügen über einen hohen Leistungsbereich. Die Wartung erfolgt komfortabel nach Kundenwunsch von unten oder seitlich am Gerät. Die komplette Innenverkabelung aller Komponenten auf die individuell konfigurierbare Regeleinheit WOLF C-max bzw. auf die Klemmeinheit (bei Verwendung einer bauseitigen Regelung) ermöglicht einen vielseitigen und maßgeschneiderten Einsatz.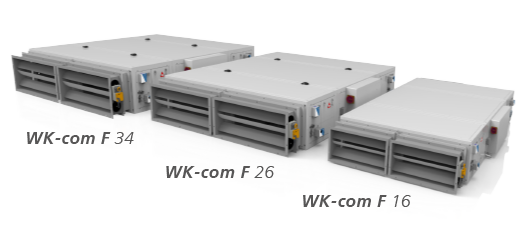 Your benefits
Units can be operated and serviced from the side or from below
Compact design that complies with all standards and regulations
Large output range of up to 3500 m3/h
Designed to VDI 6022
Compliance with Ecodesign Regulation 2018
Efficient, high-grade and performance-tested fitted parts
Acoustically optimised casing design for nearly silent operation
Easy installation thanks to stable self-supporting casing design
Prepared for suspended mounting as standard
All internal cabling on externally mounted switch cabinet/terminal unit
Optional switch cabinet with WOLF C-max DDC controller mounted or supplied loose for wall mounting
Large selection of control devices, room programming units and touch panels
Communication possible via Modbus, BACnet and LON
Individually expandable with demand-optimised components, such as silencers, heating coils (PWW/electrical), cooling coils (PCW/direct expansion coil), filters and many more.
Casing in zinc-plated sheet steel, stainless steel V2A, aluminium AlMg3, paint finish (RAL to customer requirements)
Versatile application
Calculation with tested and certified sizing program
The compact solution
WK-com F air handling units are the ideal solution for providing rooms with optimum air conditioning from compactly sized units. The extremely slimline units of this series feature superior energy efficiency, power saving EC fans, efficient heat recovery systems and tested filter technology. The perfect system for your air handling requirements. With our modular system, there are no limits to your adaptation options. They air condition your project in line with demand, hygienically to VDI 6022 and efficiently to ErP 2018.
Control

Combination of the WK-com flat units with the WOLF C-max control unit yields an intelligent system solution in which all components work together perfectly. Mounted fully wired on the air handling unit for quick and easy commissioning at the installation location.
Optionally without control unit, with internal wiring to externally mounted docking stations and terminal boxes.

You decide on the material: zinc-plated, stainless steel, aluminium (AlMg3) or painted/coated to customer requirements. Even combinations, such as a stainless steel internal casing with a zinc-plated outer shell, can be implemented easily.

Unit mounting

The standard unit mounting holes and optional mounting brackets enable simple and secure ceiling mounting with the on-site decoupling elements and suspensions. Access for inspection and maintenance is not impaired.

Hygiene

With their smooth inner surfaces, WK-com flat units ensure no breeding ground for micro-organisms. Their casing is sealed hygienically with tested, microbially inert sealants.

Noise transmission

To prevent noise transmission (of both structure-borne and acoustic noise), only insulating connectors (zinc-plated or stainless steel) are used. These can be completely isolated and insulated to prevent the formation of weak spots. Whisper-quiet: The acoustically optimised casing design with a sound-­absorbing coefficient Rw of 38 dB to DIN 52210 minimises noise emissions from the fans.

Unit connection

The externally mounted module connectors enable swift, secure and permanent unit installation.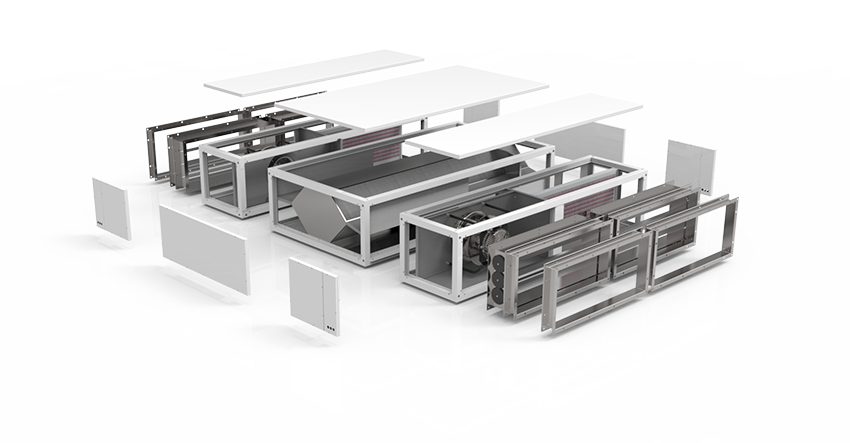 Unit mounting
The standard unit mounting holes and optional mounting brackets enable simple and secure ceiling mounting with the on-site decoupling elements and suspensions. Access for inspection and maintenance is not impaired.
Fans

The WK-com F uses energy saving EC fans. Apart from a high efficiency of IE4, they boast extremely quiet and low-vibration operation thanks to the optimised blade profile.
The integrated electronics make frequency converters unnecessary and ensure demand-dependent, variable speed control.

3D Condensate Pan

At high levels of heat recovery, condensate forms during cooling and humidification. This must be removed quickly and reliably. The WOLF 3D pan, made from aluminium or stainless steel, has a three-dimensional fall, which reliably prevents water residues and the associated hygiene risks from bacterial growth.

Heat recovery

High-grade counter-current plate heat exchangers with heat recovery coefficients up to 90 % recover valuable energy from the extract air. The wear-resistant systems impress with high operational reliability, relatively low costs of purchase and efficiency in operation. They are hygienically safe thanks to fully separated air flows. The standard integral bypass with control damper and servomotor enables optimum output control. The surroundings of the heat recovery system can also be used for free cooling (introduction of cool outdoor air for room cooling without any use of artificial cooling energy).

Filters

All WK-com flat units are fitted with 48 or 96 mm thick panel filters as standard (ePM 1 - ePM 10 to ISO 16890. Additional filters can optionally be fitted by adding filter sections, for example in the biostatic version. The filters treated with biostatic preservative prevent the growth of fungi and bacteria to ensure clean, healthy air. Biostatic filters boast an outstanding dust storage capacity and efficiency in damp conditions.
Options, combination and extension modules
Fan module
Various individually sized and optimised EC fans can be used for each unit size. With their integrated electronics, the fan/motor units allow continuously variable output control.

The sizing takes account of all external and internal resistances and ensures that the optimum fan is always selected.

Fan module
The frame is available in zinc-plated and stainless steel 1.4301 versions, whilst the cladding panels can be supplied zinc-plated, in aluminium AlMg3, stainless steel 1.4301 or with a RAL paint finish according to customer specification.
Louvre dampers
Tightly closing aluminium louvre dampers (tightness category 2 to EN 1751) with external gears and axle for servomotor connection.
Unit connection
Units are connected exclusively with solid insulating connectors made from zinc-plated sheet steel (optionally stainless steel) with an integral insulating element for structure-borne noise separation. This largely prevents transmission of acoustic and structure-borne noise.
Filter module
The integrated panel filters with a very large filter surface area of grade M5-F9 (to EN 770 / grade ePM10 to ISO 16890) have an installed depth of 48 and 96 mm.

Bag filters, compact filters, activated charcoal filters, HEPA filters or expanded metal filters can optionally be installed.

PWW heater module
High-grade casing module equipped with a removable heat exchanger sized individually to the output and made from copper pipes with press-fitted aluminium fins.

Optional: Stainless steel coil frame, Coated fins

Silencer module
High-grade casing module with integral silencer links and glass fibre cover to VDI 6022. The module is sized individually in accordance with the required insertion attenuation.
Electric heater module
High-grade casing module with removable electric heat exchanger individually adjustable to the required output and fitted with integral safety equipment. Connection, output and safety equipment compactly mounted on the module exterior.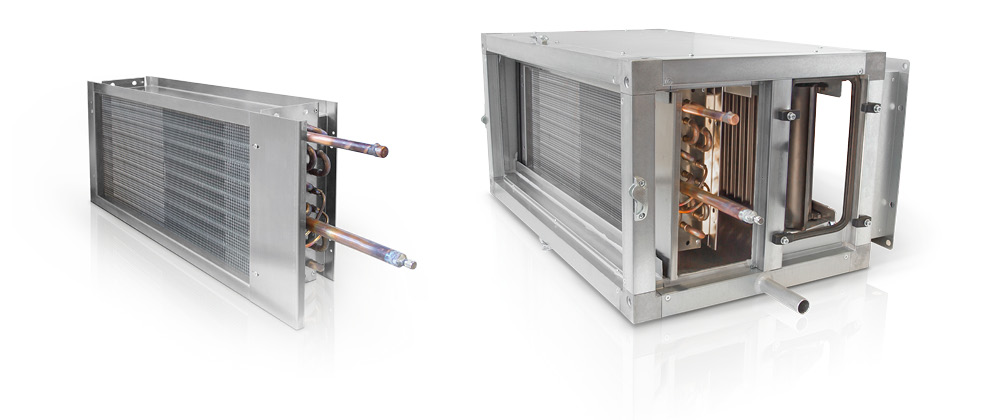 PCW cooling module / direct expansion coil
High-grade casing module with integrated aluminium condensate pan with a three-sided slope (to VDI 6022) towards the side condensate drain.
The coil is removable for convenient and thorough maintenance.
The cold water heat exchanger (or direct expansion coil) consists of copper pipes with press-fitted aluminium fins and is sized for the required output.
Optional: Stainless steel coil frame, Coated fins, Removable mist eliminator


»True greatness does not need much space«
Heating and cooling with WOLF inverter heat pumps
A perfectly coordinated system ensures optimum temperatures in summer and winter operation.
Continuous variable output control 20 – 100 %

High operational reliability

Self-sufficient system for heating and cooling operation

Highly efficient and sustainable due to the use of the refrigerant of the future, R32


Complete system solution from the manufacturer with continuous efficiency
WOLF C-MAX
Pre-configured for your system
For straightforward commissioning by the customer, the WOLF C-MAX is factory-configured specifically for every customer system. All that remains for the customer to do when commissioning the heat recovery unit is to specify the set values, fixed speeds, flow rate, pressure and switching times.
At a glance
Room unit on-site control (optional)
Programming unit (HMI) for commissioning and function extension
Control unit ready programmed and factory-configured
User friendly menu system
Extension modules for BACnet, Modbus,
interface (already programmed, integration of the module into existing BMS on site)
Remote servicing via TCP/IP
CO2, pressure, constant flow rate control or humidity control are possible
Software updates by SD card
Variable 0-100 % via
3-stage automatic system
Constant flow rate
Constant pressure
CO2 control
Humidity control
Anti-icing protection of the heat recovery unit
Constant supply air
Extract air/supply air cascade
Room / supply air cascade